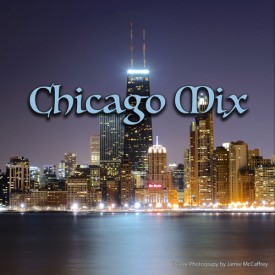 Chicago Mix, tracks influenced by my passion for Chicago House. Compiled and Mixed May 2015 by DJ Marko.
Listen To This Mix on Your Phone: Buy It Now On Beatport!
Tracklist:
01. Me & My Toothbrush – One Thing (Nora en Pure Remix)
02. Lost Frequencies, Janieck Devy – Reality feat. Janieck Devy
03. Mason – Papapapa
04. Yolanda Be Cool, Dcup – Soul Makossa (Money)
05. SNBRN – California feat. Kaleena Zanders (Chris Lake & Matroda Remix)
06. Christian Key, Nick Corline House Work – Star 69
07. twoloud – Higher off the Ground
08. Criminal Vibes – Pump It Up Feat. Kilian (Paul Jockey 2015 Remix)
09. Lika Morgan – Relax (Don't Do It)
10. Lissat & Voltaxx, Vanessa Ekpenyong, Marc Fisher – Can't Get Enough (Dave Rose Remix)
11. Mr. Belt & Wezol – Finally
12. Joe Stone – The Party (This Is How We Do It) ft. Montell Jordan
13. Armin van Buuren, Sharon Den Adel – In and Out of Love feat. Sharon Den Adel (Lost Frequencies Remix)
14. Lucas & Steve – Fearless
15. King Arthur, Michael Meaco – Belong to the Rhythm feat. Michael Meaco (Don Diablo Edit)
16. Shaun Frank – TIME
17. Nora En Pure, Sons Of Maria – Uruguay (EDX's Dubai Skyline Remix)
18. Redondo, Bolier, She Keeps Bees – Every Single Piece feat. She Keeps Bees
19. Robbie Rivera, Shawnee Taylor – Falling Deeper
20. Cajmere, Kryder – Percolator feat. Cajmere
21. Denney – Low Frequency
22. Christian Smith, Wehbba – Mutate (Kaiserdisco Remix)
23. Mars Bill – Panorama
Also on behalf of all the artists on this mix, thank you for buying my mix.
Visit http:://www.djmarko.nl for more mixes & booking info.
Internet: http://www.djmarko.nl
Facebook: https://www.facebook.com/pages/DJ-Marko/387025154715111
Twitter: @markovanderpuil
Equipment used:
 DAW

Media: Digital Downloadable mp3
Listen To This Mix on Your Phone: Buy It Now On Beatport!
---