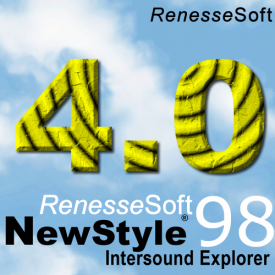 RenesseSoft 98 NewStyle Intersound Explorer
Recorded live on 1998-08-01 in Discotheque Trinity Renesse by DJ Marko.
Digitally Restored & Remastered March 2014 by Dj Marko
Track Listing: NewStyle 98-4
—
01. The Face: Needin' You
02. Foundation & Deskee: Get Up
03. Groovy 69: Medley With Dust
04. Massivemen: C'est What?
05. Madagaskar: You're Beautiful (Mac Zimms Remix)
06. Dj Jean: U Got My Love
07. Soulman: Put Your House
08. Horny UTD: Somebody Scream
09. T.O.: Diva (remix)
10. Sm Trax: Got The Groove
11. Miss Jane: Its A Fine Day
12. Dj Quicksilver: Timerider
13. Delegate: Want You To Stay (Rmx)
14. Sunbox: Belong
15. Niels Van Gogh: Pulvertum
16. The M. Experience: The Tunnel
17. Mackenzie: Fall In Love
18. Moonman: Don't Be Affraid
19. Dumonde: Tomorrow
20. Dj Sakin & Friends: Protect Your Mind (Braveheart) (Suspicious Remix)
21. Legend B: The Spirit
22. Dj Tomcraft: The Mission
23. Milk Incorporated: Inside Of Me (DJ Philip, Wout & Jan Remix)
—
Inspired by Ben Liebrand who is on a mission to preserve what he calls "The Grand 12 Inches", you know, those wonderful extended versions of the great dance tracks of the 70s, 80s and 90s I'm on a mission to digitally preserve all the mixes I made, especially those in my early career. This is necessary because the digital and analog copies of that time are starting to decay and our generation had such a good time I felt the music needed to be documented, preserved and archived for us and future generations to enjoy.
While preserved on optical media a close listen revealed some drops and digital artifacting. You could also hear this was the middle of summer and I was banging those records as there were a lot of scratches and ticks in this mix. I manually repaired the drops by replacing them with identical audio from elsewhere in the recording. The digital artifacts were manually painted out and by ear as well as by examining every sample by eye. Most of the scratches and ticks are gone. I also slowed the mix down as it was pitched way too fast back in 1998 to fit all the music on a single compact disc. The disc was slightly remastered to balance some of the lower frequencies.
So enjoy this mix as much as I enjoyed restoring it now and creating it in 1998, 16 years ago!
If you enjoy this mix please like my DJ Marko Facebook page where I will archive all my previous mixes by date for you to enjoy. Also I would appreciate if you share this mix on Twitter or Facebook and leave me a comment to tell me what you think. If you have any copies of other mixes of mine that I haven't archived yet drop me a personal message.
Facebook: https://www.facebook.com/pages/DJ-Marko/387025154715111
Twitter: @markovanderpuil
Equipment used:
Technics SL 1200 MK 2 Turntables (2)
Dateq LMP 7.2 Mixer
JVC XD-Z505 Digital Audio Tape Deck

Media:
Philips Optical Disc
---