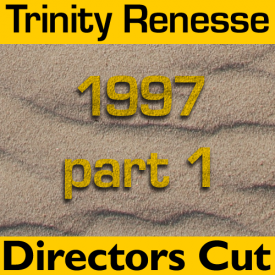 Trinity Renesse part 1 NewStyle 1997
Recorded live on 1997-02-07 in Discotheque Trinity Renesse by DJ Marko.
Restored, Recreated & Digitally Remastered Februari 2014 by Dj Marko

Track listing: NewStyle 97-1 Directors Cut
—
01. Grooveyard: Mary Go Wild!
02. Metro Dade: The Andor Voyage
03. Lisa & Tori: People Hold On
04. Toni Braxton: Un-Break My Heart
05. Huff & Puff: Help Me Make It
06. The Chemist: Ruff Kutz (Klubbheads Mix)
07. Disco Blu: Disco Blu
08. Mr. Marvin Presents White City: Wanna Be
09. Gala: Freed From Desire
10. Kazzino: Touch Me
11. Todd Terry Presents Sound Design: Bounce 2 The Beat
12. 2 Flying Stones: Maybe Tomorrow
13. T.L.T.: Running Back
14. Sweet Drop: Human Nature
15. Two Phunky People: Got To Be Paid
16. Faithless: Salva Mea (DJ Quicksilver Mix)
17. Sash!: Encore Une Fois
18. Future Breeze: Why Don't You Dance With Me
19. B.B.E.: Flash
20. Csilla: Man In The Moon (Joe T. Vannelli Mix)
21. DJ Malin: La Serenissima
—
Inspired by Ben Liebrand who is on a mission to preserve what he calls "The Grand 12 Inches", you know, those wonderful extended versions of the great dance tracks of the 70s, 80s and 90s I'm on a mission to digitally preserve all the mixes I made, especially those in my early career. This is necessary because the digital and analog copies of that time are starting to decay and our generation had such a good time I felt the music needed to be documented, preserved and archived for us and future generations to enjoy.
While this one looked easy at first I kind of bit off more then I could chew so to say. Most of the recordings from those days that I have on DAT have some digital artifacts and drop-outs mostly at the beginning of the tape, but this one also had a bunch of drops and issues further on in the tape. In fact whole songs were all but missing or had such bad drops they were unrecognizable. What I normally do is I take a couple of takes from the same DAT and then combine those recordings choosing the best take. When I got the tape out for the second take I accidentally dropped it and the tape cover broke off rendering the tape completely unplayable.
Disaster!
This was the only functioning copy in existence and it was ruined! What now? I had heard some parts of the tape by now and there were such great tracks on it I was doubly motivated to complete the work, but I had almost nothing to work with. So I set out to restore the mix by replacing the parts containing the drop-outs with digital masters of the original recordings. As it turned out a lot of the parts where I had two records playing had drop outs or artifacts as well and I realized I wouldn't get far restoring the mix this way. There was only one way to complete this and that was to completely recreate and remaster the tape using current day digital recordings.
So first all the tracks on the mix needed to be identified. The middle part (tracks 10/11) was so badly damaged I'm not even sure I have the correct tracks even now. Then a digital copy of the tracks had to be found in my archives or purchased and/or created from a cd or a vinyl should no digital copy be at hand. I spent most of january identifying the tracks and ordering 2nd hand cd's and vinyl from around the world and digitizing them into my digital audio workstation. Now the recordings needed to be cleaned up from ticks, dust and scratches. I don't use any automated software or plug-ins for that because that way you always take out more then you need, and it is clearly audible so doing it by hand ensures you get the best quality in your the result, and that is what counts.
Next I set out to recreate the mix I synchronized all tracks to a steady rhythm track, correcting all the little tempo changes that are present in almost all recordings from those days. The BPM varies ever so slightly over the duration of the record. DJs from that era will know this because their prime skill is to correct these little pitch/tempo variations before they turn audible and the audience finds out. I chose a slightly lower tempo for this mix because the original mix was really fast, too fast in hindsight.
Now that all the tracks were beat-matched all the fades and equalizations were recreated and some (very small) effects added and the entire mix was mastered digitally to cd-audio quality. As a bonus for you I created this version which I called the "Directors Cut". This exclusive extended edition adds an additional 30 minutes of music by letting most of the tracks sit in the mix a little longer this way you can fully enjoy the progression of the tracks and the build of the mix. I also created a new cover for the mix.
So there you have it the Remastered, Recreated Directors Cut of Trinity Renesse 1997 part 1 NewStyle 97 for your enjoyment. If you enjoy this mix please like my DJ Marko Facebook page where I will archive all my previous mixes by date for you to enjoy. Also I would appreciate if you share this mix on Twitter or Facebook and leave me a comment to tell me what you think. If you have any copies of other mixes of mine that I haven't archived yet drop me a personal message.
Facebook: https://www.facebook.com/pages/DJ-Marko/387025154715111
Twitter: @markovanderpuil
Equipment used:
Technics SL 1200 MK 2 Turntables (2)
Dateq LMP 7.2 Mixer
JVC XD-Z505 Digital Audio Tape Deck
Motu Ultralight Mk3

Media:
Sony DT-90 Digital Audio Tape
---