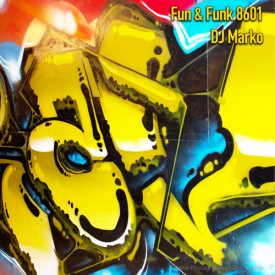 #new wave #funk #disco #r&b #pop #house #dance
Attention all music lovers! Get ready to experience the ultimate party with DJ Marko NL's latest DJ Mix Fun & Funk 8601! This 80-minute non-stop DJ mix is packed with the hottest hits and all the iconic 1986 tracks, guaranteed to get you up and dancing all night long.
Nostalgia DJ Mix of Funk and New Wave music from 1986 by DJ Marko
DJ Marko NL has handpicked the finest tracks from 1986, including classics such as "Let's Go All the Way" by Sly Fox, "I Love To Love" by Tina Charles, "Borrowed Love" by S.O.S. Band, "Walk Like An Egyptian" by Bangles, and "Don't Waste My Time" by Paul Hardcastle. Each track has been expertly mixed to create a seamless and electrifying dancefloor experience.
From the groovy beats of "C'est La Vie" by Robbie Nevil to the soulful sounds of "Nasty" by Janet Jackson, DJ Marko NL has something for everyone in this mix. And with tracks like "I Can't Wait" by Nu Shooz and "Rumors" by Timex Social Club, you'll be transported back in time to the era of neon lights, big hair and funky dance moves.
But the party doesn't stop there. Every song is carefully curated to create the perfect 80s atmosphere. Whether you're a fan of pop, R&B, or dance, this mix has something for everyone.
DJ Marko NL has included some of the biggest club bangers of the 90s, including "Something About You" by Level 42, "You And Me Tonight" by Aurra, "Once Bitten Twice Shy" by Vesta Williams, and "Sweet Freedom" by Michael McDonald. These tracks are sure to get you on the dancefloor, grooving to the beat.
For those who love a good ballad, DJ Marko NL has included some of the best love songs of 1986, including "The Promise You Made" by Cock Robin
In addition to the classics, there are some lesser-known tracks included in the mix that are sure to impress the beginnings of house are here with "People of All Nations" by Shawn Christopher. But italo disco was still strong in '86 as proven by the electric "Ti Sento" by Matia Bazar. These tracks will melt your heart and leave you feeling all warm and fuzzy inside.
To sum it up, DJ Marko NL's Fun & Funk 8601 DJ Mix is a must-listen for anyone who loves 80s music. So, turn up the volume, put on your dancing shoes, and get ready to experience the ultimate dancefloor party. This mix is now available on Mixcloud, don't miss out on the fun!
So, what are you waiting for? Hit the play button and join DJ Marko NL on a journey through the best tracks of 1986. With the perfect mix of classic hits and club bangers, this is the ultimate party experience. Get ready to dance the night away!
01. Sly Fox – Let's Go All The Way
02. Tina Charles – I Love To Love
03. S.O.S. Band – Borrowed Love
04. Bangles – Walk Like An Egyptian
05. Paul Hardcastle – Don't Waste My Time
06. Full Force – Alice I Want You Just For Me
07. Robbie Nevil – C'est La Vie
08. Janet Jackson – Nasty
09. Nu Shooz – I Can't Wait
10. Timex Social Club – Rumors
11. Level 42 – Something About You
12. Aurra – You And Me Tonight
13. Vesta Williams – Once Bitten Twice Shy
14. Mai Tai – Female Intuition
15. James Brown – Living In America
16. L.I.F.E. – You're All Played Out
17. Michael McDonald – Sweet Freedom
18. Cock Robin – The Promise You Made
19. Midnight Star – Midas Touch
20. Shawn Christopher – People Of All Nations
21. Matia Bazar – Ti Sento
22. House People – Godfather Of House
23. The House Master Boyz – House Nation
24. Paul Simon – You Can Call Me Al
25. Simple Minds – Sanctify Yourself
26. Fine Young Cannibals – Johnny Come Home
---